Medal designed by Alex Shagin, struck by Medalcraft Mint in quantities of 150 bronze and 65 pure silver,
plus 13 cast in 10kt gold. Obverse: Portrait of Karpeles as a flag-bearer, LEOPOLD KARPELES 1838-1909,
A•SHAGIN. Reverse: Lincoln's letter and a tallit (prayer shawl), thank you heartily for your prayers …
A. Lincoln (signature), CONGREGATION MIKVEH ISRAEL PHILADELPHIA. 49 x 47 mm.
Leopold Karpeles, born in Prague, Bohemia in 1838, emigrated to Galveston, Texas at the age of 11. He became an expert rider, and eventually one of the youngest members of the Texas Rangers. Leopold was outspoken about his anti-slavery views, and so he moved to Springfield, Massachusetts, where he subsequently enlisted in the Union Army as a flag-bearer.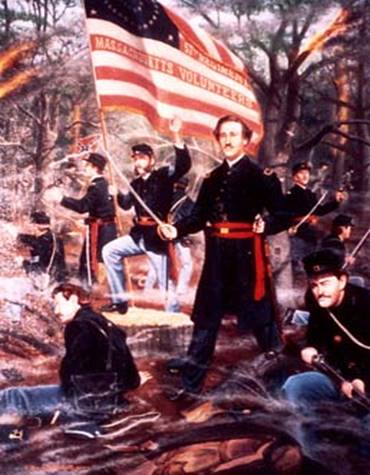 Color Sergeant Leopold Karpeles was instrumental in turning the tide of the May 1864 Wilderness Campaign, that saw his 57th Massachusetts Regiment suffer among the highest casualties. Some historians consider this Civil War battle as the turning point, when the North began its slow march toward victory. Karpeles' bravery is described in the hero's own words: "I marched in an inspired manner with my flag waving proudly … providing courage for my comrades. I'm also a prime target for the enemy. My dedication to my country's flag rests on my ardent belief in this noblest of causes, equality for all."
While hospitalized with nearly total paralysis, in Washington, D.C. in the Spring of 1864, Karpeles was ministered to by a young volunteer — Sara Mundheim, daughter of the local rabbi — whom he later married. Once his health improved, Karpeles was appointed to the Commerce and Post Office Departments.
He was a major figure in the Grand Army of the Republic, which supported veteran causes, and was one of the six founders of the Medal of Honor Legion.
Leopold Karpeles died in February, 1909 and was buried in the cemetery of the Hebrew Congregation in Washington, D.C. His tombstone is unique, with a replica of the Congressional Medal of Honor emblazoned on its granite surface.

The Karpeles medal's reverse features an excerpt of a letter, in Lincoln's own handwriting, written on May 13, 1862 acknowledging the prayers of the Congregation Mikveh Israel in Philadelphia for the Union cause. Alongside is a tallit (four cornered fringed Jewish prayer shawl).