Dara Torres medal designed by Eugene Daub, and reverse by Mel Wacks. Struck by The Highland Mint in quantities of 115 bronze, 60 pure silver, and 30 gold-plated silver. Obverse: Portrait, NEVER PUT AN AGE LIMIT ON YOUR DREAMS, DARA TORRES, DAUB. Reverse: THE JEWISH-AMERICAN HALL OF FAME. 49 x 47 mm.
Dara Torres is arguably the fastest female swimmer in America. She entered her first international swimming competition at age 14 and competed in her first Olympic Games a few years later in 1984.
At the Beijing Olympic Games in 2008, Dara became the oldest swimmer to compete in the Olympic Games. When she took three silver medals home – including the infamous heartbreaking 50-meter freestyle race where she missed the Gold by 1/100th of a second – America loved her all the more for her aston-ishing achievement and her good-natured acceptance of the results.
In total, Dara has competed in five Olympic Games and has won 12 medals in her entire Olympic career (Jewish American swimmer Mark Spitz has won only 11 Olympic medals). In her first Olympic games in 1984, she won a gold medal for the 100–meter relay. She went on to compete in the 1988, 1992, 2000, and 2008 Olympics, winning five medals in 2000, more than anyone else on her team. In 2008, the oldest–ever Olympic swimmer at age 41 (and having given birth only a year earlier), she won two silver medals for 100-meter medley relay and 50–meter freestyle, breaking the American freestyle record she had set at age fifteen. Over the course of her career, she won four gold, four silver, and four bronze medals at the Olympics and broke the American record speeds for 50–meter freestyle ten times, more than any American swimmer in any event. In the Wikipedia List of Multiple Olympic Medalists, Dara is in 15th place worldwide (including both men and women), in 4th place among Americans, in 2nd place among American women, and in 1st place among all Jewish Americans.
Aside from her amazing accomplishments in the pool, Dara has talents on dry land as well. A composed commentator, guest host and strong interviewee, she has appeared on Fox News, ESPN, CNN, Piers Morgan Tonight, Today Show, Good Morning America, Kelly and Regis, and many others. Additionally, Dara was the first female athlete ever to be featured in the Sports Illustrated Swimsuit Issue, and in 2009, won the ESPY award for "Best Comeback." To add to Dara's accolades, she was also named one of the "Top Female Athletes of the Decade" by Sports Illustrated Magazine and in 2019, Dara was inducted into the U.S. Olympic and ParalympicHall of Fame.
A top-selling author, her memoir, "Age is Just a Number: Achieve Your Dreams at Any Stage in Your Life," was published in April, 2009 and was listed as one of the top 25 best-selling business books by June of that year. Her second book, "Gold Medal Fitness: A Revolutionary 5-Week Program" hit stands in May, 2010 and became a New York Times Best-Seller.
Source: daratorres.com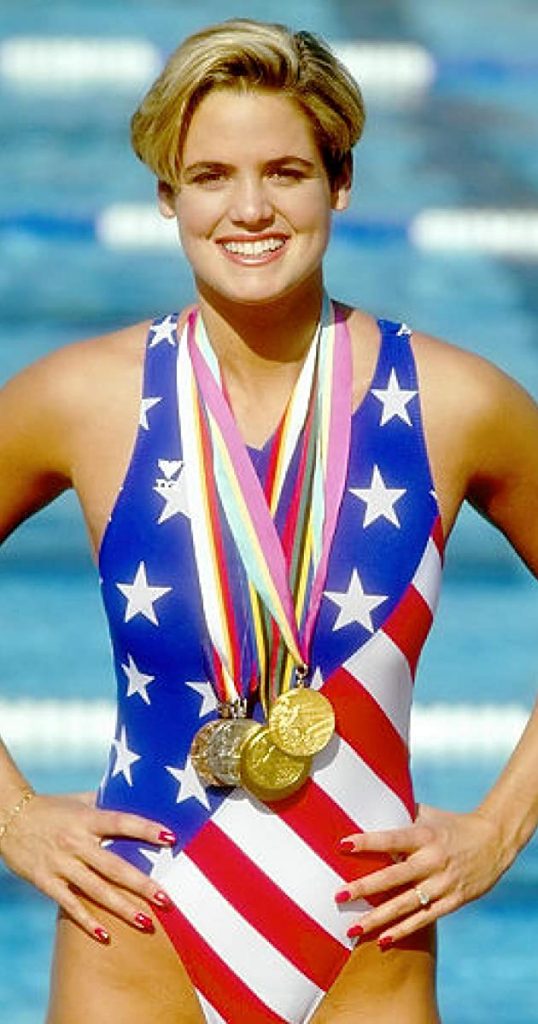 Click here to view Team USA video about Dara Torres.