INDEX
Before There Were Coins (13th - 8th Century BCE)
Early Greek Coins (8th Century BCE - 66 CE)
First Judaean Coins (4th Century BCE)
Syrian-Judaean Coin Connection (142 - 131 BCE)
Maccabean/Hasmonean Coins (135 - 37 BCE)
Last Of The Maccabees (40 - 37 BCE)
Widow's Mite (30 CE)
Roman-Judaean Coin Connection (58, 53 BCE)
Herod The Great (37 - 4 BCE)
Herodian Dynasty (4 BCE - 39 CE)
Herod's Grandchildren (37 - 96 CE)
Procurators (6 - 66 CE)
Tribute Penny (30 CE)
First Revolt (66 - 70 CE)
Judaea Capta (70 - 96 CE)
Nerva's Jewish Tax Coin (96 CE)
The Other Jewish Revolt (115 - 117 CE)
Hadrian's Trip To Judaea (130 CE)
Second Revolt (132 - 135 CE)
The Coins Live On (after 135 CE)
City Coins Of Palestine (c. 66 - 268 CE)
Arabs In The Holy Land (c. 650 - 1094 CE)
Crusaders (1099 - 1861 CE)
Rebirth (1948 CE)
Bibliography
Coin Values & Concordance of Wacks, Old Hendin and New Hendin Numbers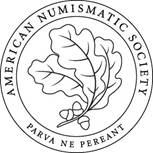 Web Site Administered by the
American Numismatic Society.

YOU ARE INVITED TO CLICK AND VISIT THESE EXPERT DEALERS

AMPHORA

David Hendin, is author of the Guide to Biblical Coins, and he issues periodic price lists of ancient coins & antiquities. The Handbook of Biblical Numismatics identifies each coin with the "H" (Hendin) number.

ROSENBLUM RARE COINS

Bill conducts periodic mail bid auctions and issues price lists featuring ancient Judaean/ Bible coins, other coins of the ancient world, Judaic medals, and coins, medals and paper money of modern Israel.

AMPHORA ON VCOINS

Easily view and use your credit card to order ancient coins and antiquities from David Hendin's Amphora covering the Holy Land/ Judaea, plus the Greeks, Romans, Byzantines, Moslems, Crusaders, etc.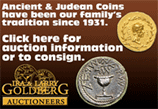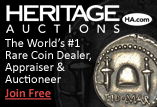 All of these dealers are members of the
American Numismatic Association
and/or the
American Numismatic Society.