INDEX
People
Abravanel, Don Isaac
Berg, Gertude (Molly Goldberg)
Berg, Moe
Berle, Milton
Berlin, Irving
Bernstein, Leonard
Brandeis, Louis D.
Cardozo, Benjamin
Einstein, Albert
Elion, Gertrude
Frankel,Jacob
Gershwin, George
Ginsburg, Ruth Bader
Gompers, Samuel
Goode, Alexander
Goodman, Benny
Gratz, Rebecca
Greenberg, Hank
Hillman, Sidney
Hoffman, Jeffrey
Houdini, Harry
Jefferson, Thomas
Karpeles, Leopold
Lamarr, Hedy
Lazarus, Emma
Lehman, Herbert H.
Levy, Asser
Levy, Uriah P.
Magnes, Judah L.
Meir, Golda
Miller, Arthur
Myerson, Bess
Noah, Mordecai.
Ochs, Adolph
Pulitzer, Joseph
Resnik, Judith
Rose, Ernestine
Rosenthal, Robert

Ross, Barney
Salk, Jonas
Salomon, Haym
Santangel, Luis de
Sarnoff, David
Schick, Bela
Seixas, Gershom M.
Singer, Isaac B.
Stern, Isaac
Straus, Isidor & Ida
Strauss, Levi
Streisand, Barbra
Szold, Henrietta
Torres, Dara
Torres, Luis de
Touro, Judah
Wacks, Mel
Wald, Lillian
Washington, George
Wiesel, Elie
Wise, Isaac Mayer
Zacuto, Abraham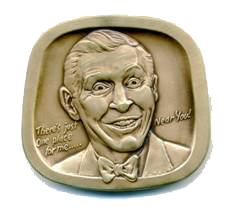 Medal by Eugene Daub (2008), Milton Berle, star of vaudeville, radio, and pioneering super-star of television.
Milton Berle (1908-2002)
"Mr. Television," Milton Berle, was the pioneering television star of the hugely popular Texaco Star Theater, that garnered as much as an 80% share of the viewing audience from 1948 to 1955. Berle's theme song was "There's only one place for me – near you."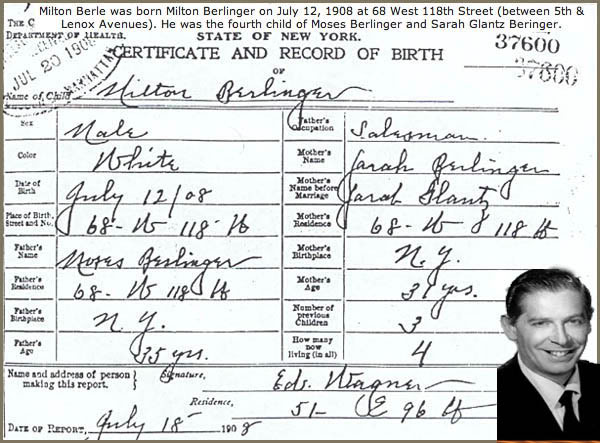 Milton Berle's (born Berlinger) birth certificate.
Milton Berlinger was born in New York City on July 12, 1908 , His onstage antics got underway in 1913 when he won a look-alike contest with his impersonation of Charlie Chaplin. Berle appeared as a child actor in silent films, beginning with The Perils of Pauline (1914), filmed in Fort Lee , New Jersey with Pearl White.

In 1942, Milton Berle accepted an offer to star in the Ziegfeld Follies on Broadway. To illustrate what a major box-office attraction Berle had become, the producers agreed to put his name above the title of the show. This was a huge concession, and Berle says it's the only time in the history of the Follies that a performer saw his name above the title! The Ziegfeld Follies opened on April 1, 1943 , and ran for 553 performances. As if that wasn't enough to keep Berle busy, he also found the time to squeeze in camp shows for the GIs, benefits for the Red Cross, appearances to help sell war bonds and broadcasts for Armed Forces Radio.
At the beginning of each show, a quartette sang:
"Oh, we're the men of Texaco
We work from Maine to Mexico
There's nothing like this Texaco of ours!" … and so on.
In his first four seasons on the air, Berle reigned throughout the country as "Mr. Television," and was fondly called "Uncle Miltie." In May 1949, he became the first comedian to appear simultaneously on the covers of Time and Newsweek, with accompanying profile stories. Milton Berle received one of the first Emmy Awards ever given for starring in NBC's Texaco Star Theater (1948), was the first person to be inducted into the Television Hall of Fame (1984), the first inductee into the Comedy Hall of Fame (1992), and the first to receive a Lifetime Achievement Award from the New York Television Academy (1996).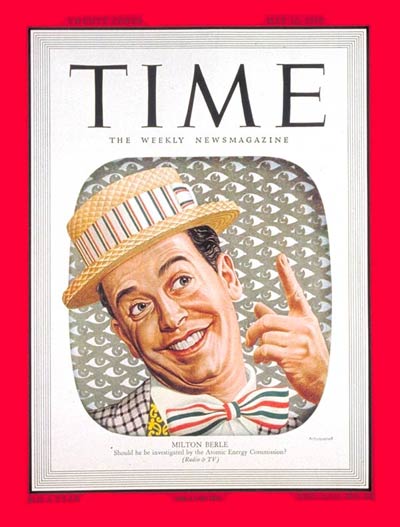 The May 16, 1949 issue of Time Magazine.
Milton Berle was also a songwriter and author, and appeared in dozens of motion pictures and television shows. He received an Emmy Nomination for his lead role in "Doyle Against The House" on The Dick Powell Show in 1961.
Berle was named to the Guiness Book of World Records for the greatest number of charity performances made by a show-business performer over a period of 50 years. Berle received an award for entertaining at stateside military bases in World War I as a child performer, in addition to traveling to foreign bases in World War II and Vietnam. The first charity telethon (for the Damon Runyan Cancer Fund) was hosted by Berle in 1949. A permanent fixture at charity benefits in the Hollywood / Los Angeles area, he was instrumental in raising millions for charitable causes.

---
Click Here to Take Milton Berle Quiz
---
Go to page: First Page Previous Page Next Page