INDEX
People
Abravanel, Don Isaac
Berg, Gertude (Molly Goldberg)
Berg, Moe
Berle, Milton
Berlin, Irving
Bernstein, Leonard
Brandeis, Louis D.
Cardozo, Benjamin
Einstein, Albert
Elion, Gertrude
Gershwin, George
Ginsburg, Ruth Bader
Gompers, Samuel
Goodman, Benny
Gratz, Rebecca
Greenberg, Hank
Hillman, Sidney
Hoffman, Jeffrey
Houdini, Harry
Jefferson, Thomas
Karpeles, Leopold
Lamarr, Hedy
Lazarus, Emma
Lehman, Herbert H.
Levy, Asser
Levy, Uriah P.
Magnes, Judah L.
Meir, Golda
Miller, Arthur
Myerson, Bess
Noah, Mordecai.
Ochs, Adolph
Pulitzer, Joseph
Pulitzer, Joseph
Resnik, Judith
Rose, Ernestine
Rosenthal, Robert

Ross, Barney
Salk, Jonas
Salomon, Haym
Santangel, Luis de
Sarnoff, David
Schick, Bela
Seixas, Gershom M.
Singer, Isaac B.
Stern, Isaac
Straus, Isidor & Ida
Strauss, Levi
Streisand, Barbra
Szold, Henrietta
Torres, Dara
Torres, Luis de
Touro, Judah
Wacks, Mel
Wald, Lillian
Washington, George
Wiesel, Elie
Wise, Isaac Mayer
Zacuto, Abraham

Medal by Eugene Daub (2019), Isaac Mayer Wise, leading Rabbi in Reform Judaism.
Isaac Mayer Wise (1819-1900)
Isaac Mayer Wise was one of America's outstanding Jews and a leading rabbi during the 19th Century. His major achievements were the establishment of the Union of American Hebrew Congregations in 1873, the Hebrew Union College in 1875, and the Central Conference of American Rabbis in 1889.

Wise was born on March 29, 1819, in Steingrub, Bohemia. He was a brilliant student, and at the age of nine, his father, a teacher, had taught him all he knew about the Bible and the Talmud. Wise completed his formal education by attending the University of Prague and the University of Vienna for three years. At the age of 23, in 1842, he appeared before a Beth Din (a rabbinical court) consisting of three well-known rabbis — Solomon Judah Rappaport, Samuel Freund, and Ephraim Loeb Teweles — who together conferred on him the title of rabbi. Two years later, he married Therese Bloch, who was to give birth to ten children.
Wise found that being a rabbi in Bohemia brought him problems with the government, because of the restrictions still in force against the Jews. He decided to come to America because of its religious freedom, arriving in New York on July 23, 1846. At this time, he changed his name to Wise from its original German spelling, Weiss.
Wise became the rabbi of Congregation Beth El in Albany, N.Y., where he introduced choral singing, confirmation to replace Bar Mitzvah, and the seating of men and women together in pews for services. His changes resulted in much disapproval. In 1850, on the morning before the beginning of Rosh Hashanah, Wise was dismissed at a rump meeting of the board of directors. The next day havoc broke loose between his followers and those who opposed him. Soon after, a group broke away from Beth El and, with Rabbi Wise, established a new Reform synagogue called Anshe Emet ("Men of Truth").
In 1854, Wise went to Cincinnati, Ohio, to become rabbi of Beth K.K. B'nai Yeshurun, a Reform congregation. (Since 1931, the temple has been known as the Isaac M. Wise Temple.) He stayed there the rest of his life. It was from there that he tried creating a national organization of congregations. He found this a difficult task, as the Orthodox rabbis were at odds with the Reform movement. Nevertheless, despite his setbacks, Wise continued to advocate a union of congregations, a common prayer book, and a college to educate and train American rabbis.
Parts of his dreams came true when, in 1873, delegates from 34 Reform congregations met in Cincinnati and organized the Union of American Hebrew Congregations. Two years later, in July 1875, the Union established the Hebrew Union College, the first Jewish seminary in the United States. Wise became its president and teacher.
Wise was also an organizer and mover in the establishment of the Central Conference of American Rabbis, in 1889. Elected its president, he served until he died on March 26, 1900. This conference adopted the Union Prayer Book that would be used by all Reform congregations.

Bibliography: Jewish Heroes & Heroines of America : 150 True Stories of American Jewish Heroism, © 1996, by Seymour Brody, published by Lifetime Books, Inc., Hollywood, FL.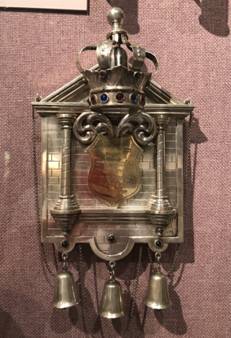 The reverse of the medal is based on a breastplate by Andrew Messmer, presented to Rabbi Isaac Mayer Wise in 1899, on his 80th birthday. It is in the collection of the Hebrew Union College, Cincinnati.
---
Click Here to Take Isaac Mayer Wise Quiz
---
Go to page: First Page Previous Page Next Page