INDEX
People
Abravanel, Don Isaac
Berg, Gertude (Molly Goldberg)
Berg, Moe
Berle, Milton
Berlin, Irving
Bernstein, Leonard
Brandeis, Louis D.
Cardozo, Benjamin
Einstein, Albert
Elion, Gertrude
Frankel,Jacob
Gershwin, George
Ginsburg, Ruth Bader
Gompers, Samuel
Goode, Alexander
Goodman, Benny
Gratz, Rebecca
Greenberg, Hank
Hillman, Sidney
Hoffman, Jeffrey
Houdini, Harry
Jefferson, Thomas
Karpeles, Leopold
Lamarr, Hedy
Lazarus, Emma
Lehman, Herbert H.
Levy, Asser
Levy, Uriah P.
Magnes, Judah L.
Meir, Golda
Miller, Arthur
Myerson, Bess
Noah, Mordecai.
Ochs, Adolph
Pulitzer, Joseph
Resnik, Judith
Rose, Ernestine
Rosenthal, Robert

Ross, Barney
Salk, Jonas
Salomon, Haym
Santangel, Luis de
Sarnoff, David
Schick, Bela
Seixas, Gershom M.
Singer, Isaac B.
Stern, Isaac
Straus, Isidor & Ida
Strauss, Levi
Streisand, Barbra
Szold, Henrietta
Torres, Dara
Torres, Luis de
Touro, Judah
Wacks, Mel
Wald, Lillian
Washington, George
Wiesel, Elie
Wise, Isaac Mayer
Zacuto, Abraham

Medal by Eugene Daub (2018), Hedy Lamarr, Motion picture actress and inventor.
Hedy Lamarr (1914-2000)
Hedy Lamarr was born Hedwig Eva Maria Kiesler in 1914 in Vienna, Austria-Hungary, the only child of Gertrud Kiesler (née Lichtwitz) and Emil Kiesler. Her father was raised in a Jewish family in Lemberg (now Lviv in Ukraine) and was a successful bank director; her mother was a pianist and Budapest native who came from an upper-class Jewish family.
In the late 1920s, Lamarr was discovered as an actress and brought to Berlin by producer Max Reinhardt. Following her training in the theater, she returned to Vienna to work in the film industry. In early 1933, at age 18, she starred in Gustav Machatý's film, Ecstasy. The film gained world recognition after winning an award in Rome.
She went on to play a number of stage roles. On August 10, 1933 she married Mandl, an Austrian military arms merchant and munitions manufacturer, who was reputedly the third-richest man in Austria. Lamarr accompanied Mandl to business meetings, where he conferred with scientists and other professionals involved in military technology. These conferences were her introduction to the field of applied science and nurtured her latent talent in science.
Lamarr's marriage to Mandl eventually became unbearable, and she fled to Paris. After arriving there in 1937, she met Louis B. Mayer, who was scouting for talent in Europe. Mayer persuaded her to change her name to Hedy Lamarr and brought her to Hollywood in 1938 -- promoting her as the "world's most beautiful woman".
Lamarr made her American film debut in Algiers (1938), opposite Charles Boyer. According to one viewer, when her face first appeared on the screen, "everyone gasped--Lamarr's beauty literally took one's breath away."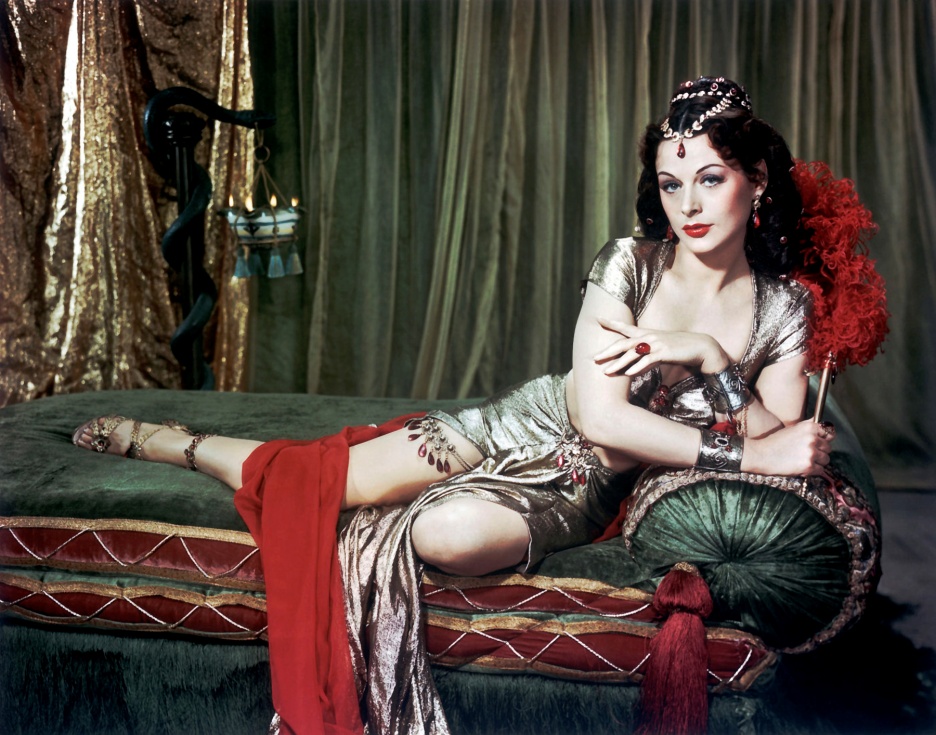 Hedy Lamarr in Samson and Delilah (1949)
Lamarr made 18 films from 1940 to 1949. After leaving MGM in 1945, she enjoyed her biggest success as Delilah in Cecil B. DeMille's Samson and Delilah, the highest-grossing film of 1949, with Victor Mature as the Biblical strongman. The film also won two Oscars.
During World War II, Lamarr learned that radio-controlled torpedoes, which were important in the naval war, could easily be jammed, thereby causing the torpedo to go off course. With the knowledge she had gained about torpedoes from her first husband, she thought of creating a frequency-hopping signal that could not be tracked or jammed. She contacted her friend, composer and pianist George Antheil, to help her develop a device for doing that, and he succeeded by synchronizing a miniaturized player-piano mechanism with radio signals. They drafted designs for the frequency-hopping system, which they patented.
Their invention was granted a patent on August 11, 1942 (filed using her married name Hedy Kiesler Markey). However, it was technologically difficult to implement, and at that time the U.S. Navy was not receptive to considering inventions coming from outside the military—especially a movie star.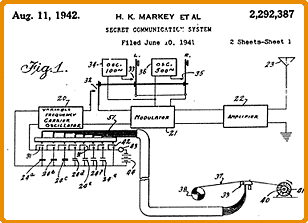 During World War II, Lamarr wanted to join the National Inventors Council, but was reportedly told by NIC member Charles F. Kettering and others that she could better help the war effort by using her celebrity status to sell war bonds. She did so, and under an arrangement in which she would kiss anyone who purchased $25,000 worth of bonds, she sold $7 million worth in one night.
It wasn't until the 1950s that engineers from Sylvania Electronics Systems Division began experimenting with ideas documented in Lamarr and Antheil's system. Instead of a mechanical device for frequency-hopping, engineers developed electronic means for use in the spread-spectrum technology deployed during the U.S. naval blockade of Cuba in 1962. By then, Lamarr and Antheil's patent had expired and he had died of a heart attack. Lamarr and Antheil's work with spread spectrum technology contributed to the development of GPS, Bluetooth, and Wi-Fi. In 2014, Lamarr and Antheil were posthumously inducted into the National Inventors Hall of Fame.
Lamarr became a naturalized citizen of the United States at age 38 on April 10, 1953. For her contribution to the motion picture industry, Hedy Lamarr has a star on the Hollywood Walk of Fame at 6247 Hollywood Boulevard, adjacent to Vine Street.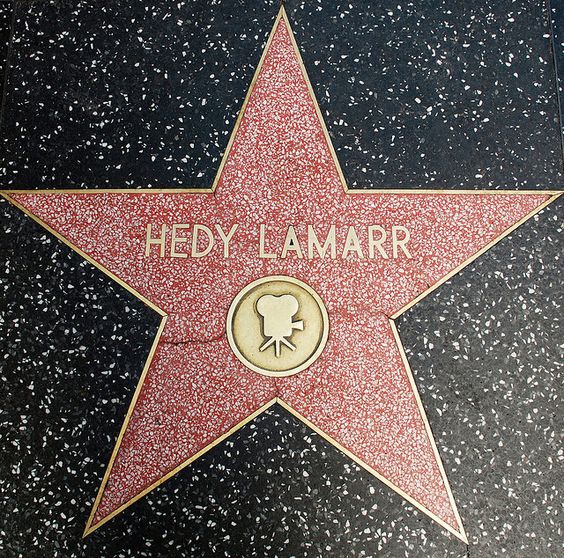 On November 9, 2015, the 101st anniversary of her birth, Google paid tribute to Hedy Lamarr's work in film and her contributions to scientific advancement with an animated Google Doodle.
---
Click Here to Take Hedy Lamarr Quiz
---
Go to page: First Page Previous Page Next Page